Project Gemini
Project Gemini is a neat modern take on the Gopher protocol. You can read the Gemini FAQ or the Gemini specification to learn more details, but the home page has a nice summary:
Gemini is a new internet protocol which

Is heavier than gopher
Is lighter than the web
Will not replace either
Strives for maximum power to weight ratio
Takes user privacy very seriously
There are some nice Gemini clients implemented in various languages, for both the command-line and with nice user interfaces. I happen to enjoy using AV-98 and Lagrange, but many others are also great.
In a similar manner to my Gopher implementation in Factor, I recently implemented the Gemini protocol as well as a Gemini server and a Gemini user interface: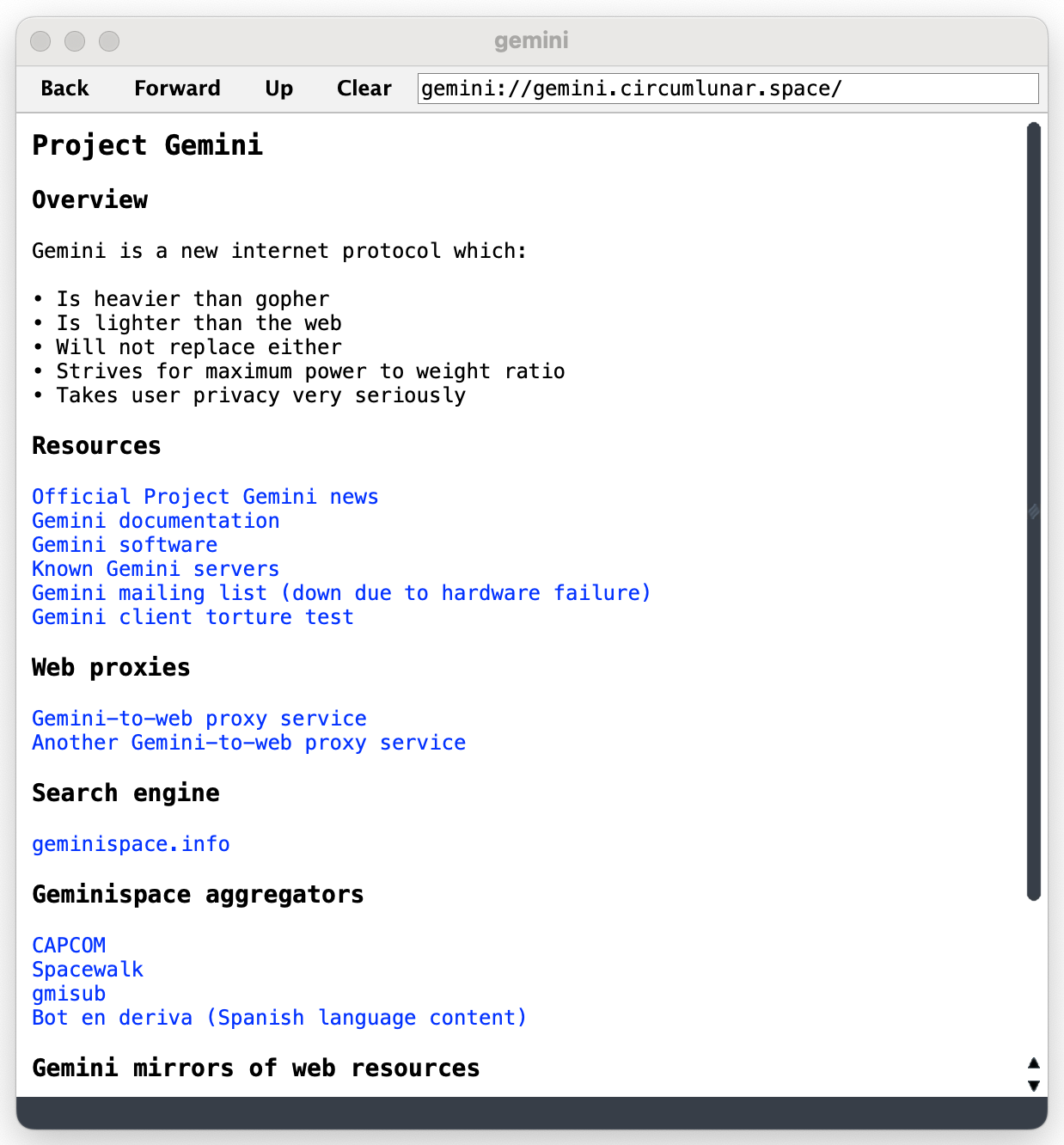 Instead of going into how the protocol or the user interface is implemented, I wanted to go over the Gemini command-line interface. In the spirit of Python's cmd module, I contributed the command-loop vocabulary to support generic line-oriented command interpreters.
We start by making a sequence of commands that our Gemini interpreter will support:
CONSTANT:

 

COMMANDS

 {


    T{ command


        { name 

"back"

 }
        { quot [ 

drop 

gemini-back ] }
        { help 

"Go back to the previous Gemini URL."

 }
        { abbrevs { 

"b"

 } } }


    T{ command


        { name 

"forward"

 }
        { quot [ 

drop 

gemini-forward ] }
        { help 

"Go forward to the next Gemini URL."

 }
        { abbrevs { 

"f"

 } } }


    T{ command


        { name 

"history"

 }
        { quot [ 

drop 

gemini-history ] }
        { help 

"Display recently viewed Gemini URLs."

 }
        { abbrevs { 

"h"

 

"hist"

 } } }


    T{ command


        { name 

"less"

 }
        { quot [ 

drop 

gemini-less ] }
        { help 

"View the most recent Gemini URL in a pager."

 }
        { abbrevs { 

"l"

 } } }


    T{ command


        { name 

"ls"

 }


        { quot [ gemini-ls ] }


        { help 

"List the currently available links."

 }
        { abbrevs 

f 

} }


    T{ command


        { name 

"go"

 }


        { quot [ gemini-go ] }


        { help 

"Go to a Gemini URL"

 }
        { abbrevs { 

"g"

 } } }


    T{ command


        { name 

"gus"

 }
        { quot [ 

drop 

"gemini://gus.guru/search"

 gemini-go ] }
        { help 

"Submit a query to the GUS search engine."

 }
        { abbrevs 

f 

} }


    T{ command


        { name 

"up"

 }
        { quot [ 

drop 

gemini-up ] }
        { help 

"Go up one directory from the recent Gemini URL."

 }
        { abbrevs { 

"u"

 } } }


    T{ command


        { name 

"url"

 }
        { quot [ 

drop 

gemini-url ] }
        { help 

"Print the most recent Gemini URL."

 }
        { abbrevs 

f 

} }


    T{ command


        { name 

"reload"

 }
        { quot [ 

drop 

gemini-reload ] }
        { help 

"Reload the most recent Gemini URL."

 }
        { abbrevs { 

"r"

 } } }


    T{ command


        { name 

"root"

 }
        { quot [ 

drop 

gemini-root ] }
        { help 

"Navigate to the most recent Gemini URL's root."

 }
        { abbrevs 

f 

} }


    T{ command


        { name 

"shell"

 }


        { quot [ gemini-shell ] }


        { help 

"'cat' the most recent Gemini URL through a shell."

 }
        { abbrevs { 

"!"

 } } }


    T{ command


        { name 

"quit"

 }
        { quot [ 

drop 

gemini-quit ] }
        { help 

"Quit the program."

 }
        { abbrevs { 

"q"

 

"exit"

 } } }


}

And then we define a custom command-loop that will allow us to number the links on a Gemini page, and then by typing a number we can navigate to one of the links by detecting a "missing command":
TUPLE:

 

gemini-command-loop

 < 

command-loop

 

;





M:

 

gemini-command-loop

 

missing-command


    

over 

string>number [ 

1 

- 

LINKS 

?nth 

] [ 

f 

] 

if* 

[
        gemini-go 

3drop


    ] [


        call-next-method


    ] 

if* 

;

Finally, we make a simple MAIN: word to run it:
:

 

gemini-main

 

( -- )


    

"Welcome to Project Gemini!"

 

"GEMINI>"




    gemini-command-loop new-command-loop


    COMMANDS [ 

over 

add-command ] 

each


    run-command-loop 

;





MAIN:

 

gemini-main



You can see it in action:
$ ./factor -run=gemini.cli
Welcome to Project Gemini!
GEMINI> go gemini.circumlunar.space/news/

Official Project Gemini news feed

[1] Atom feed

2023 News

[2] 2023-01-14 - Tidying up gemini.circumlunar.space user capsules
[3] 2023-01-08 - Changing DNS server

2022 News

[4] 2022-06-20 - Three years of Gemini!
[5] 2022-01-30 - Minor specification update (0.16.1)
[6] 2022-01-22 - Mailing list archives, Atom feed for official news
[7] 2022-01-16 - Mailing list downtime, official news feed